For the past two years, there have been a number of movies coming out in theaters that rejuvenated my interest in going to the movies. We've seriously had streak the past two years that's reminiscent of my favorite decade in cinema, the 70's! So with this in mind, I will admit that so far this year; aside from watchmen, it hasn't been a really extraordinary year so far...but it's only looking to get better folks. I'm here to bring a few films to your attention that you should be on the lookout for and/or look forward to.
Inglorious Basterds - Release Date: Aug 21st 2009
Quentin Tarantino's return to the big screen has been looked forward to since his last film Death Proof. This time, he brings us a throwback to war films starring Brad Pitt, Eli Roth, Mike Myers, and Cloris Leachman. Interesting cast? Definitely! If you've already seen the trailer, you know this is going to be entertaining to say the least. Skeptics are saying that Tarantino has lost his touch ever since Pulp Fiction. He's been a victim of what I call "The Orson Welles Syndrome". He did one of his best films in the eyes of his fans so early in his career, that it's almost as if everything he does after is a disappointment. Not true, as good as Pulp Fiction was, I truly believe his craft has improved over the years. Jackie Brown and Death Proof have been my personal favorites. Debates ensue whenever I say this statement, and by this time I'm used to it. However, everyone judges Tarantino's merit on comparing what he does to Pulp Fiction, which is what people did to Orson Welles after Citizen Kane. If you stop looking at it that way, you might find something more special. Orson Welle's best years weren't behind him, his whole career was his best years...just like Tarantino. Basterds is about a group of specially picked soldiers assigned to reign fear among the nazis during World War II. Rumors are that it's a remake of the 1978 original with Fred Williamson, though Tarantino says it isn't. Hence why he purposely spelled bastards "basterds".
Public Enemies - Release Date: July 1st 2009
Michael Mann returns to the genre he knows best, crime. Public Enemies is the true story of John Dillinger (Johnny Depp) and the tenacious Melvin Purvis (Christian Bale) out to arrest him, set in the 1930s. Mann has been at the forefront of superb crime drama since the 80s. Starting with "Miami Vice", being the first person to bring Hannibal Lector to the screen in 1986's "Manhunter", and creating possibly the greatest crime drama of all time; 1995's "Heat". Don't worry, I have not forgotten possibly the best role in Cruise's career which was Mann's ode to the L.A. nightlife "Collateral". We are already aware that Mann has a knack for this genre and it's also due to his unorthodox method of story telling along with the way he shoots his films. Using DV since Collateral, he's given the crime drama a new layer of grittiness that we haven't seen since the 70's with Sam Peckinpah's style of direction. As lackluster as it was, Mann even made his revamped Miami Vice look absolutely stunning with his style of shooting. Armed with a stellar cast including Oscar winner Marion Cotillard, Giovanni Ribisi, Rory Cochrane, Stephen Dorff, and Billy Crudup, this film shows that Mann has worked on bringing us an odyssey to the underworld as engaging as Heat was.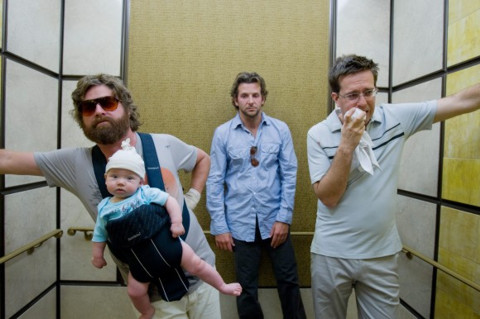 The Hangover - Release Date: June 5th 2009
Todd Phillip's career showed a lot of promise, from his college film Hated; a documentary about the infamous GG Allin, to his big studio comedies like Road Trip and Old School, he's proven to be a director to look forward to. He's hit a few bumps in the road with Starsky & Hutch and School For Scoundrels (the failure of this film in particular I blame Jon Heder for, absolutely one of the worst actors ever) but Old School has to be one of the most hilarious comedies in the style of greats as Animal House, Revenge of the Nerds, etc... The Hangover stars Bradley Cooper, Ed Helms, and Zack Galifianikis as three groomsmen who lose their guest of honor during a drunken night of partying in Las Vegas. Little promotion has been going on for this film right now, but there is definitely a buzz. Test screenings have done well over above average, and word on the street is it's going to be greenlit already for a sequel. Raunchy R rated comedies have been making a serious comeback, thanks to movies like Superbad, Knocked Up, and the 40 Year Old Virgin. I'd like to Phillips and Apatow at the helm of this generations raunchy comedy front like John Landis was back in the 80's. Check out the trailer for yourself, hell! even Mike Tyson's cameo looks worth paying the admission fee alone.
Where The Wild Things Are - Release Date: October 16th 2009
I have to admit that when I first heard about this, I completely wrote it off. I mean how did the last few films based on 30 page children books do? Remember Cat in the Hat? How The Grinch Stole Christmas? Exactly... However, Spike Jonze is a visionary director and I must admit that Adaptation and Being John Malcovich are two films that I think EVERYONE should see. Jonze brings Maurice Sendak's classic book to life in a way of which I've never seen, at least from the looks of the trailer. The story is about a boy who's sent to bed without his supper after being disobedient, He then creates an imaginative world with different creatures that crown him king, and so the story begins. The trailer as I said, turned my opinion completely around. This is something Jonze has apparently wanted to do for a long time considering he produced/directed and did all the legwork to bring this to the screen, all by himself. Check out the trailer for yourself courtesy of WWW.APPLE.COM/TRAILERS
The Informers - Release Date: April 24th 2009 (limited release)
This movie has been done for a while, the cast is outstanding and the reviews are really positive...yet this film had a hard time finding a distributor? Bret Easton Ellis' work translates well on screen, but in the hands of a good director. American Psycho is probably the hardest book in the history of literature to adapt, aside from Naked Lunch. I'd say because the book is absolutely psychotic. That didn't stop Mary Herron, who penned the adaptation as well as directed. Roger Avery also did an exceptional job on Rules of Attraction. Less Than Zero has it's moments, but fell somewhat flat. Like Ellis' Less Than Zero, The Informers is a multi layered narrative story about the high life of L.A. You've got your movie executives, rich drug addicted teenagers, ex cons, etc... Their lives all mix in this surrealistic setting that Ellis created of 1983 Los Angeles. Ellis' books are visceral in the storytelling department, which makes the books a hard sell for movies. If you tame it down, it loses it's impact. If you follow to the last line, you make a deplorable and morally depraved film. It's a fine line you have to walk with Ellis' work, which is partly to blame for the adaptation of Less Than Zero. The cast is illuminating with everyone from Kim Basinger, Billy Bob Thorton, Oscar nominee Mickey Rourke, and the late Brad Renfro (in his last film appearance since his death in 2008).